President Obama Scolds Russia For The Annexation Of Crimea
Despite hard words at the United Nations General Assembly, Obama said he is willing to work with Russia to end the Syrian conflict.
President Barack Obama used his speech at the United Nations General Assembly Monday to press for the Ukrainian crisis to be resolved and for Russia to face consequences for its annexation of Crimea.

"We cannot stand by when the sovereignty and territorial integrity of a nation is violated," Obama said at the United Nations headquarters in New York. "If it happens without consequences in Ukraine, it can happen to any nation here today."
Obama's criticism comes mere hours before he is set to meet with Russian president Vladimir Putin.
"Imagine if instead, Russia had engaged in true diplomacy," Obama said. "That would be better not just for Ukraine, but better for Russia."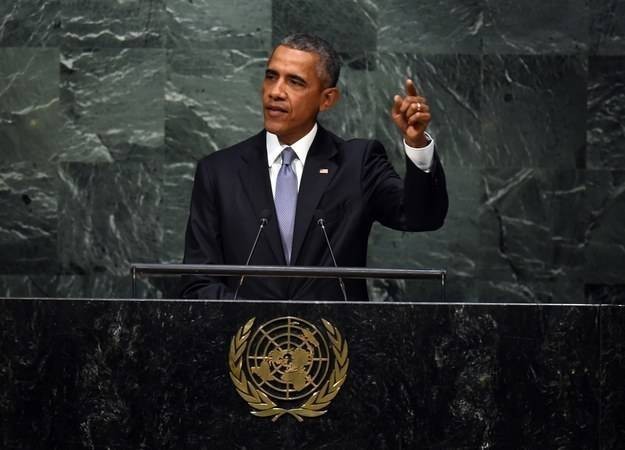 Despite the president's harsh words, he said he is willing to work with any country – including Russia and Iran – to solve the Syrian conflict, which he described as "an assault on all our humanity."
In bringing an end to the four-year civil war that has plagued the nation, Obama added, Syrian president Bashar al-Assad cannot remain in power.
"When a dictator slaughters tens of thousands of his own people that is not just a matter of one nation's internal affairs," Obama said. "It breeds human suffering … that affects us all."
Obama discussed the growing number of people fleeing Syria, stating that the United States, "a nation of immigrants ourselves," will launch new efforts to ensure businesses, universities, and NGOs can help.
"In the old way of thinking … refugees were on the periphery of the world's concerns," Obama said. "Today our concern for them is driven not by conscious but also self-interest. Helping people is not mere charity. It's a matter of collective security."
Obama called for nations to defend the "democratic principles that allow societies to succeed," while acknowledging that democracy can take on different forms in various parts of the world. Even so, Obama urged the nations to "bridge our differences" and defend some "universal truths" such as girls' right to an education and freedom to practice all religions.
"These are not ideas of one country or one culture," he said. "They are fundamental to human progress. They are the cornerstone of [the United Nations.]"