1. Not for Nibbling iPhone Case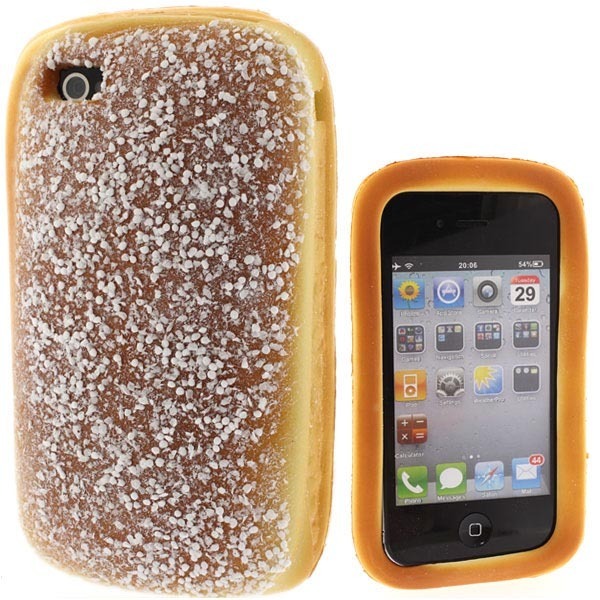 Although ugly, this is clever. However, turning food into iPhone cases is a no-no. We've never seen a food we didn't like. To eat. Just to eat. Not to play with, not to trick people with. Food is food and should be left to our tables not our phones. And who needs to be reminded of food every time we talk on our phones anyways?
2. The Severed Hand Case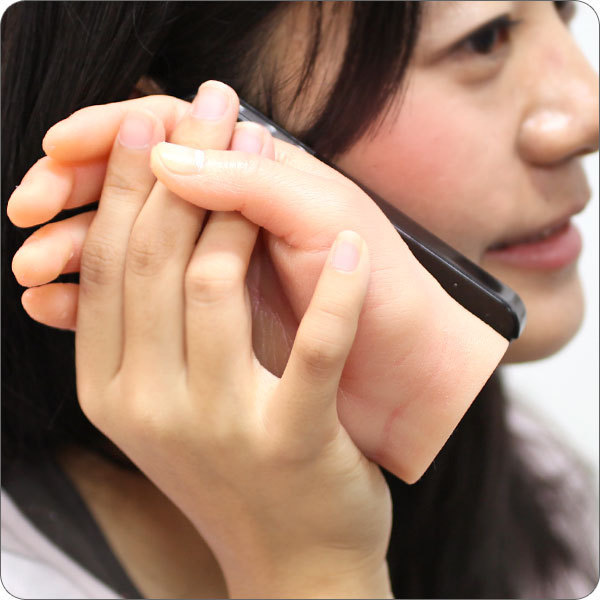 Feel like holding hands? Do you care if it looks severed? If not, this is the case for you! Can we just say, "eww!" Not only does this just look wrong, it makes us wonder what's going on behind closed doors? Maybe a little "Silence of the Lamb" action? Hannibal Lecter fan or not, this is bad. And gross.
3. Bacon. Good in Your Belly, not Around your iPhone!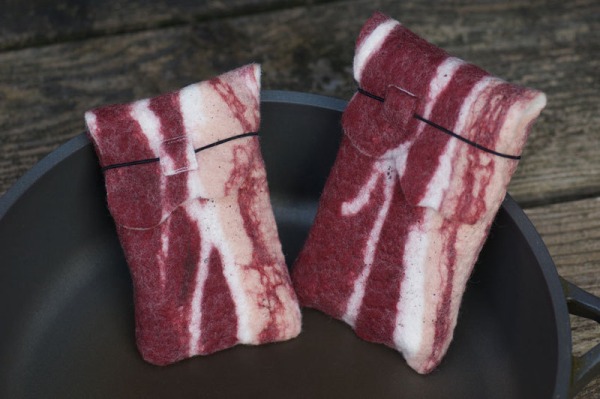 We all realize how great bacon is. And we appreciate entrepreneurs trying to cash in on its popularity. But bacon is best left in the belly! We've seen bacon shakes and other bacon food items. And even though we know it's fake, seeing raw bacon wrapped around your phone is just plain gross! After seeing this case, it's clear. Bacon really should be kept to our bellies only. Not snuggling our iPhones!
4. Because we all Need a Tail on our iPhone!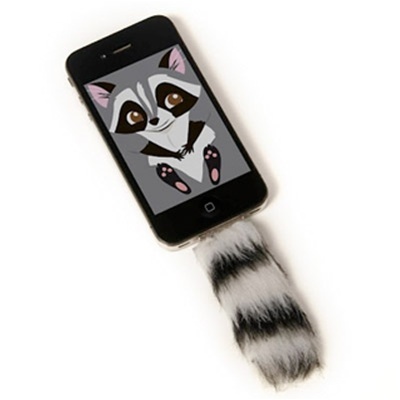 Rat tails may have went out in the 90's but apparently raccoon tails are in. Can you imagine seeing this sticking out of someone's pocket? Well, maybe at the county fair, but for those of you not used to being around people that eat fried anything, this is hideous! Just in case this doesn't do it for you, there's also a cat tail or fox tail. For those of you wondering if this is for you, we have a tip. Ladies, instead of the tail, just add bling. Men, just get a solid cover. Never pick a tail!
5. Poor Jesus!
We all love the old Christmas story! You know the one, where Jesus comes down the chimney covered in lights! So many questions with just one case. First off, why is Jesus coming down the chimney anyways? Why is Jesus covered in Christmas lights? Why does Jesus have a ball dangling from his ear? It's just like they've thrown every Christmas tradition onto one case. If only there was a candy cane somewhere!
6. Bathing Beauty? Not Even Close!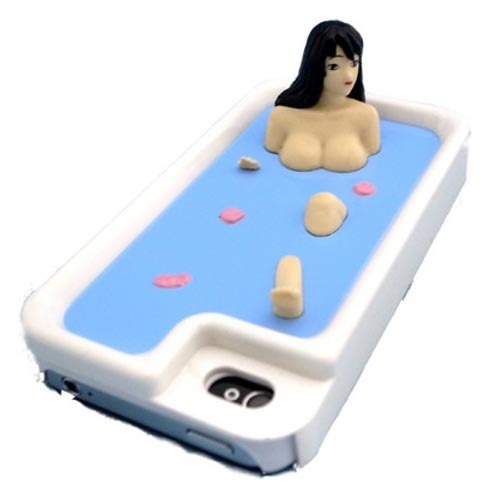 File this under both weird and ugly! The bathing woman looks frighteningly disproportionate. Check out her right hand creeping out of the water! We're not even sure what gender this appeals to. If this is supposed to depict a sexy goddess, well it doesn't. If this is supposed to show how the ladies relax, umm, it doesn't. Once again, it's probably best to avoid this monstrosity!
7. Facial Hair and Studded Cover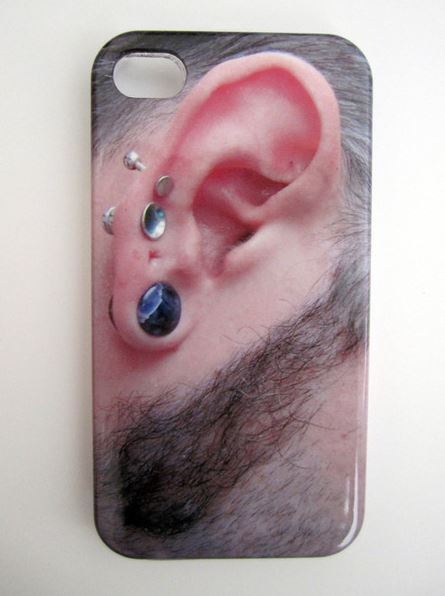 There's something just a little bit gross about this enlarged ear complete with studs and sideburns. Although we would love to see someone otherwise straight-laced using it! For example, we could envision a good humored pastor scaring his parishioners talking on this. This is possibly the perfect cover for the man who wants to show his wild side. Maybe down deep he's wished he'd always gotten his earlobe gauged. Here's his chance! The best part is he doesn't have to worry about being fired for it. He can don sideburns and earrings throughout the day while using this.
8. Shoe iPhone Cases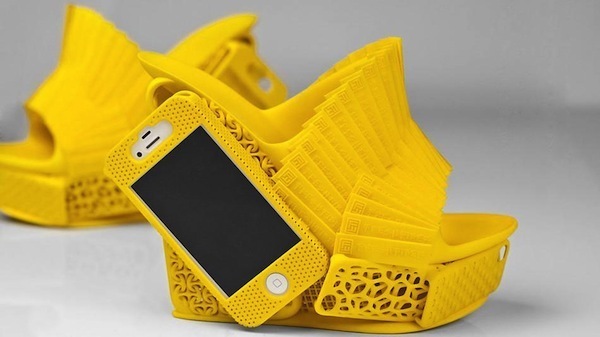 There isn't a woman out there who doesn't love her shoes. But iPhone case shoes? NO WAY! Not only are these shoes not cute, but they're not practical! Can you imagine walking along and needing to stop dead in your tracks to answer your phone? Talk about making everyone behind you mad! God forbid you lose your balance and fall while answering. Or having on a short skirt? Just avoid these at all costs!
9. My Little Pony Gets a Makeover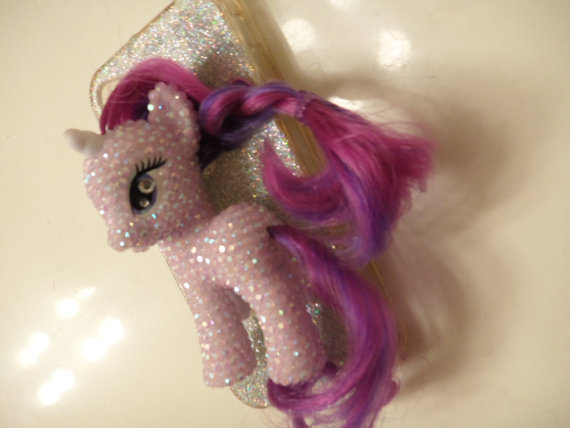 We know bedazzled iPhone cases are popular. But a bedazzled 3D My Little Pony Case? Well, unless you're a toddler, this is pretty ugly; and if you are a toddler, why do you have an iphone?. With flowing purple hair everything on this case is bedazzled. Including two little "eyeball" crystals. Maybe it's just us, but even for the "girliest of girls" out there, this seems like a bit much. Why not just get a pink or purple bedazzled case instead? We realize you couldn't braid any hair with that, but we'd still recommend it!
10. Pick your Nose, Pick your Cover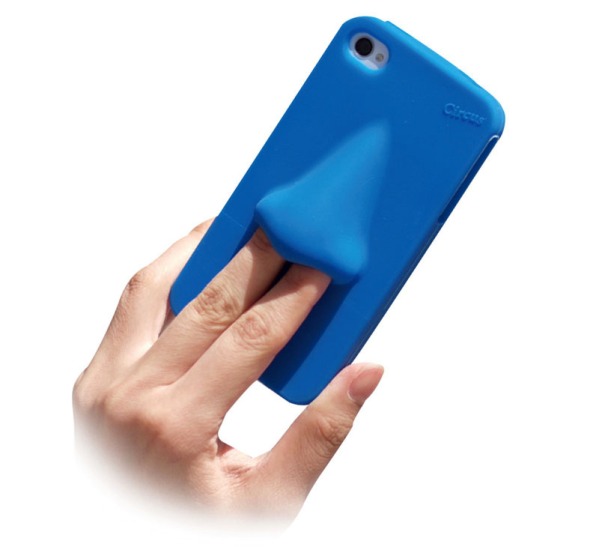 Ahhh yes, who doesn't want to mimic fingers up the nose while chatting on your phone? This cover gives you the chance to do just that! Who are we to judge? Maybe you've developed a nose picking habit and you're hoping this cover will yield the same feelings. Or, maybe you just think it looks cool. One thing we're sure it will help you master? The two-finger pick! Or, just practice the more traditional one finger pick!